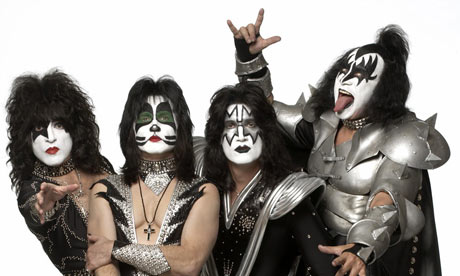 If Kurt was still alive, I'm sure he would have been honored to be inducted along with Kiss and Peter Gabriel. Too bad he's not around to see this. I'm sure Dave, Krist, and Pat will accept this honor on his behalf. Will the surviving members of Nirvana perform? I'm sure they will.
Love Kiss or hate them, they deserve this honor too. Kiss has been ignored from the Hall of Fame for years and they finally made it in. I love Kiss too but only their earlier stuff. I'm not into Kiss's new music too much but I love all of their classic songs, though. Will Ace Frehley be there to reunite with them? I'm sure this induction will be for all members of Kiss over the years.
I love Peter Gabriel's music as "Us" and "So" are two of my favorite albums of all time. His induction is worthy for sure.
Congrats also go out to Cat Stevens, Linda Ronstadt, and Hall & Oates. Another famous backing band gets the induction and that's the E Street Band, Springsteen's backing band. So this means Bruce's wife Patty and Little Steven Van Zandt are now Hall of Famers. The same goes for Max Weinberg and Clarence Clemons.
The next Hall of Fame show will be interesting for sure.
I'm more interested on who's going to induct, Nirvana. Butch Vig, Frances Bean, the guys from the Meat Puppets? Anyone of them, a possibility.
See the full inductee list, here.
Kev