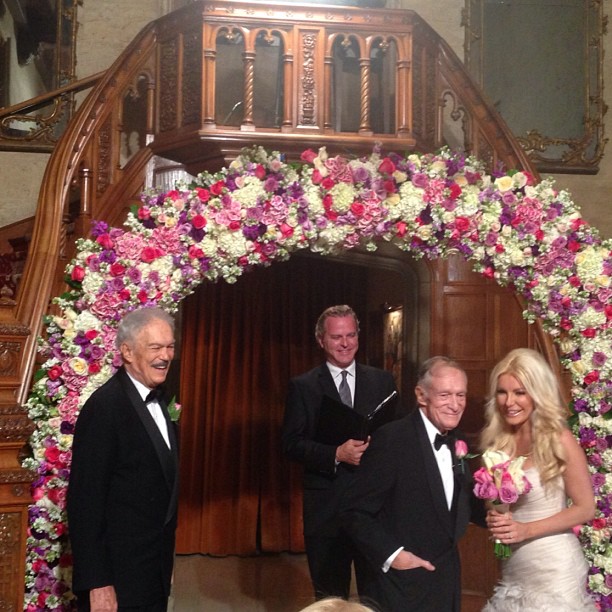 So Hugh Hefner and Crystal Harris, finally got married at the Playboy Mansion yesterday on New Year's Eve. Kind of funny, coming from a girl who called off the engagement last year. How much do you want to bet that Hefner offered her a huge deal that she couldn't refuse? I bet he offered her millions. We all know that all of these young women, go after Hefner for the money and for a hopeful career boost. Last year, Crystal  was going to launch her music career, and this could be another reason she went back to him 'cause he's probably going to help launch her music career in a big way.
Like I said in the title of this topic, I do like Playboy. I like to read the magazine and check out the pages of naked women. I respect the Playboy history and legacy, but Hugh Hefner, is an asshole and a selfish greedy douchebag.
Sure, he's a helluva rich guy. Some may think he deserves the things he gets 'cause he was successful with Playboy, but come on, lets get real here. If he never did Playboy, and lived a normal life like all of us, he would have a hard time trying to hook up with a woman. He started Playboy, just so he can fuck all these plastic blonde bimbos. He starts an empire and became rich for it, that's when all the gold digging women will start coming after him. The same goes for Donald Trump and his women.
It's really insane to me that all these young women would give up their normal life to this guy. In their world outside of Playboy, I'm sure they've had a whole life ahead of them. I'm sure they have important family and friends who worry about these women. I'm sure these women have better and more important things to do in their lives like going to college, dating men their own age, working real jobs in their careers, etc. Yet, they seem to enjoy getting spoiled by Hefner. I'm sure Hefner pays all these women to stay with him.
What will happen to all the other women in the Playboy Mansion now that Hefner is a married man? Will he stay faithful to Crystal and kick out all the other women? Yes, he would probably do that, but don't expect him to be faithful. I'll give it a month or two and he will cheat on her, behind her back. Maybe even sooner. If another supermodel wants to get laid with Hef, all he have to do is answer the phone or open the door.
Sometimes I even wonder what life will be like inside the Playboy Mansion. Oh man, I can't imagine it.
I think Crystal just wants to be the one to be with Hefner when he dies, and when it's his time to pass away, in his will, he'll give her all the money and possibly let her have ownership of the Playboy Mansion. Hefner is 86, and I'm not sure how much time he has left, but it is amazing to me that he lived this long. If he does pass on sometime, it may be a sad loss, but truthfully I could care less if he goes or not. Let him go. He'll no longer have to use and torment these young women. What's funny is that he thinks all of these young women truly loves him. They're all gold diggers and he doesn't realize it. When will he ever get that hint? He'll never get it. He'll think he's too important and wouldn't want to stay alone 'cause of his legacy with Playboy. The guy's a delusional egomaniac. Money and power. That's what he's all about, folks.
Don't go thinking that this is true love 'cause it is not. I'm pretty sure Crystal hates him just as much as we all do. It's all money and power.
Kev